Always a step ahead of other conservatories, Dinklaker Conducting Academy was the first music school in America to add "Introduction to Pugilism" and "Advanced Fisticuffs" to its already wide-ranging curricula. Chancellor Dinklaker recognized that in these days of unending cost benefit analyses, orchestral rehearsal time was at a premium. It wasn't to be wasted on, say, some third chair basset horn player taking the marking con abbandono to the extreme. And when a batonmeister can quickly nip an interruption in the bud with a well placed right cross, isn't that a cost savings worthy of celebration? (You know it is! Viva DCA!)
Composer's Voice, July 27, 2014
Review by Jack Crager
Composer's Voice concerts are typically full of surprises, with an international blend of composing and performing talent and a broad array of musical ideas. The July 27 concert at Jan Hus Church — curated by Joseph Bohigian — adds more than a dash of sonic experimentation to the mix. A California native with Armenian descent who's studying music and composition at California State University Fresno, Bohigian completes his internship with the Composer's Voice series by curating this wide-ranging and barrier-breaking set.
The concert starts with Joseph Bohigian playing his own composition, "Dzirani Dzar," in a piano duet with fellow Armenian musician Anna Aidinian. The piece begins with mysterious, discordant note splashes that evolve into assertive chords, the four hands alternating between bass and treble parts. Then a hopscotch bass motif, punctuated by dramatic high notes, builds to a climax before settling into a calmer, dreamlike section, closing out with a high-register flourish that's both luminous and uncertain.
Next up is New Yorker Sarah Carrier on solo flute, performing Benjamin Boone's "Rafflesia," a suite in three movements whose titles aptly describe their evocations. In the first section, "Malaysian Rain Forest," the flute's soft trills sound like fluttering birds in the woods, picking up speed as they dart to and fro before returning to the distinctive, jittery trill. In part two, "Pollination," a flurry of dancing notes darts up into the upper reaches of the instrument's range before swooping back down to finish in another trill. And in "Blossom Dance," a series of sustained flourishes opens up like an flower emerging in fast-motion, with rapid staccato notes bouncing between registers and building to a emotional, high-pitched climax to end the suite.
Anna Aidinian returns to the piano for the third piece, her own composition "Guosan's Life: Prelude." Beginning peacefully with soothing, octave-jumping tones, the work grows in complexity and intensity into an ominous, rumbling series of melodic phrases and counterpoints, churning faster and louder before settling back down for a relatively harmonious landing.
Joseph Bohigian then sits at piano to accompany soprano Emily Woodruff on Kenneth Froelich's lighthearted "Nerd Songs." In the first of these, "Hello World," Woodruff's crisply enunciated litany of numbers and computer codes is offset by Bohigian's bouncing blips and resonate hammer notes, the voice and piano in climactic unison on the tune's title phrase. Then in "Red Shirt," his dirge-like marching chords back her operatic vocals, melodramatically describing a "beloved red shirt torn asunder" from the singer's chest and "ripped to pieces by a Kingon's pet Targ" — in homage to that Icon of Nerdiness: Star Trek.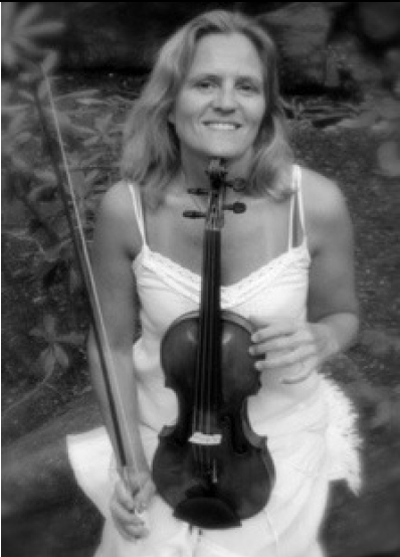 For a thoughtful change of pace, Icelandic native Eva Ingolf performs a pair of compositions on solo violin. Octavio Vazquez's "Percée II" begins with a meditative series of long notes, punctuated by lively phrases, then builds into a flurry of plucked notes, complex chords, and lilting grace notes with an unexpected ending. Then Rain Worthington's "An Evening Indigo" presents a series of melodic, occasionally dissonant phrases that gracefully rise and fall, accenting the instrument's warm tones and emotional resonance.
By contrast, the next piece showcases the more idiosyncratic sounds that can be coaxed from its instrument, the oboe, played by dancer and performer Anne Goldberg. Entitled "Flare" and written by Filipino-American Joshua Marquez, the work ranges from lilting long notes to deliberate burbles and squawks, often interspersed with mouth percussion notes that sounds like exotic insects; it builds into a flurry of rapid licks, foghorn-like wails, and sliding glissandos that show the double-reed instrument's astounding sonic range.
Continuing the sense of experimentation, Bohigian closes the concert with his own "Short Pieces for Piano," each with revelatory titles. The first one, "Point," opens with a smattering of disparate notes that pop in different directions like drops in a Jackson Pollack painting. In "Smack," Bohigian does just that, repeatedly whacking the side of the piano with an open hand to create an eerily resonate inner echo. The piece "Crush" features, you guessed it, thunderous, clumpy chords (played with elbows) before jumping into a rapid-fire dance of notes that grows into more thunderous clumps. And "Ranch" presents an ascension of beehive-like motifs that play off one another, rapidly growing and suddenly closing with a powerful bass-note flourish that sounds final. Bohigian bows with a smile — his afternoon of sonic adventure brought to a resolute finish.
You can find more as well as see and hear some of the performances at the following link: http://www.ComposersVoice.com/media/
Jack Crager
Vox Novus called for one-minute pieces for cellist Suzanne Mueller and bass flutist Pamela Sklar which contained a Native American theme. The premiere will be performed on the Composer's Voice concert series, November 9, 2014, at the Jan Hus Church in New York City.
Cellist Suzanne Mueller has been Summer Concert Artist-in-Residence at Old Westbury Gardens in New York since 2003, presenting an eclectic series of concerts with various partners. She is a graduate of both the Pre-College and College of The Juilliard School. Her teachers have included Marion Feldman, Alexander Kouguell, Lorne Munroe, Leslie Parnas, Channing Robbins, and Harvey Shapiro, and she has coached with artists including Joseph Fuchs, Margot Garrett, William Lincer, and, for non-classical cello and perspective, Eugene Friesen. She made her New York recital debut under the auspices of Artists International, as a member of the piano/cello Elysian Duo, and went on to perform as half of its successor, Elysian II, for ten years, before forming CROSS ISLAND with pianist Elinor Abrams Zayas. She also performs with clarinetist Thomas Piercy as CROSS ISLAND~Cello & Reed and with flutist Pamela Sklar as Cambiata Flute & Cello Duo. Another combination she enjoys is guitar and cello, and she was half of the guitar/cello duo, McCarron and Mueller, with Mark McCarron, for a decade. She enjoys collaboration with composers, which has led to her being a frequent performer on the Composer's Voice concert series, presenting new music by living composers. Suzanne is a member of the New Directions Cello Association, the International Alliance for Women in Music and Mu Phi Epsilon music fraternity. She performs and records with the folk duo Hungrytown, and has also appeared and recorded with singer/songwriter Terry Winchell, and in the jazz-inflected pop ensemble of Dave Rave & Mark McCarron. She can be heard on CDs by CROSS ISLAND, HUNGRYTOWN, Robin Eve Terry Winchell, Dave Rave and Mark McCarron, Alli Collis, Lauren Agnelli, and the Cave Dogs. .
A published composer of chamber music, Pamela Sklar plays many styles of music and enjoys collaborating as a flutist and composer. Her duo for violin/bongos and cello was co-featured at Composers Concordance's Festival II, and her Spell 166 for five flutes & organ is included in Lincoln Center Library for the Performing Arts's special collection. Her performance credits include numerous tours as soloist with Claude Bolling, concerts with Dave Brubeck, TV performances with tenor Andrea Bocelli, orchestras for the GRAMMY Awards, recordings for jingles, major films and many artists including Tony Bennett, Lady Gaga, Paul Simon, and Aretha Franklin. Her 2nd original cd Silver Pharaoh will be released by MSR Music in November. "The listener is transported to another time and place...hauntingly beautiful...full of colors...excellent...mastery." The National Flute Association; THE FLUTIST QUARTERLY (review of Pam's debut cd A Native American-Jazz Tribute cd).
Works selected for this Fifteen Minutes of Fame include:
Shoodi's Dare by Guilherme Afonso,
Dante's View by Rodrigo Baggio,
Full Coyote Moon by Agnieszka Bialek,
Healing Song by Jean de Liere,
Shaman by Barry Hartglass,
Stars and Silence by Andrew D. Herring,
Dream Catcher by Laszlo Kékszakállú,
Upon First Gleaning the Warrent of Dawn by Hinse Mutter,
Across Water by Peter Nickol,
Trail of Tears by Eurydice V. Osterman,
Popé Spirit by Peter Reilich,
Meditation for Bass Flute and Cello by Scott Anthony Shell,
Tears for the Land by Samuel Stokes,
Pomola by Michael Tsiames, and
Alasxsaq by Luca Vanneschi

You can find more information here
http://www.fifteen-minutes-of-fame.com/featuring/Suzanne_Mueller/Pamela_Sklar
Music Avatar is a great new way to upload works for composer opportunities hassle free! You will be able to submit, update, and modify your submission all the way up to the deadline date of the opportunity. www.MusicAvatar.org