February 9, 2014
COMPOSER'S VOICE
Program:
Fifteen-Minutes-of-Fame: Land of Mystery and Trolls with Eva Ingolf
Eva Ingolf, violin
Rune Songs
David Morneau
Eva Ingolf, violin
Mary Hubbell, soprano
Wing Over Wing
Eric Nathan
Mary Hubbell, soprano
Alice Jones, flute
Aurelia Insulinda
Skip La Plante
Skip La Plante, coba, pvc flute, and cardboard tube
I Am Here Now
David Rimelis
Melanie Mitrano, soprano
David Rimelis, guitar
Mar Adentro
Melanie Mitrano
David Rimelis
Melanie Mitrano, soprano
David Rimelis, guitar
Você Não Existe Mais
Melanie Mitrano
David Rimelis
Melanie Mitrano, soprano
David Rimelis, guitar
Performers
Mary Hubbell
Mary Hubbell, described in the New York Times as "a soprano with a sweetly focused tone," holds degrees from Boston College; the University of California, Santa Barbara; and the Royal Conservatory in The Hague. She is active in a wide range of music, from early music to contemporary repertoire. In the Netherlands, she was a frequent soloist with La Prunelle Ensemble, Praetorius Blokfluit Ensemble, and the Netherland Vocal Laboratory. She also participated in the Steve Reich Festival at the Royal Conservatory, the Young Composer's Festival in Apeldoorn, the Chamber Opera Festival in Zwolle, and the Gaudeamus Festival in Amsterdam. Orchestral engagements have included Louis Andriessen's Tao with the Royal Concertgebouw Orchestra, Robert Kapilow's Green Eggs and Ham with the Charleston Symphony Orchestra, Mozart's Exsultate, jubilate with the Beaufort Symphony Orchestra, Vivaldi's Beatus vir with the Chorale Society of the Hamptons, and Schubert's Mass in G with Musica Viva of New York. As a recitalist, she has concertized in Boston, New York, North Carolina, and South Carolina, including Piccolo Spoleto's Spotlight Series in Charleston. In New York, she has appeared as a soloist with the Manhattan Chamber Orchestra, the Transfiguration Early Instrument Ensemble, Alphabet Soup Productions, The Remarkable Theatre Brigade, and Dr. Faustus. She is pursuing a Doctorate of Musical Arts at the Graduate Center of the City University of New York and is a faculty member of the Brooklyn Conservatory of Music and Smith College. Further information can be found at maryhubbell.com.
Eva Ingolf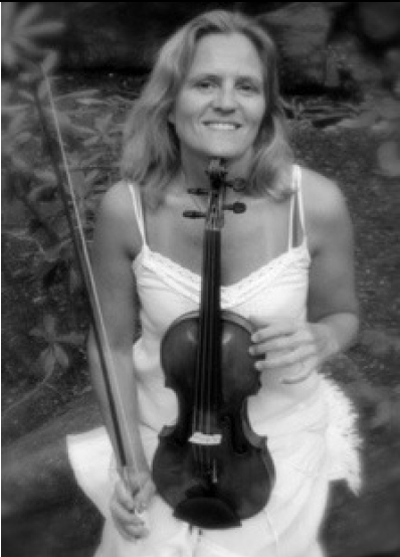 Eva Ingolf is a well known Icelandic violinist particularly recognized for her authoritative performances of solo works by J. S. Bach. She comes from a leading musical family and her father, Ingólfur Guðbrandsson, premiered many of the great choral works in Iceland and six of her sisters and brothers are professional musicians who have made an important contribution to the high quality of the musical life in the country. Eva Ingolf currently lives in New York City with her husband Kristinn Sv. Helgason, an official of the United Nations Secretariat and their daughter, Andrea Kristinsdóttir, a musician and actress. She began violin studies at a young age, gaining early recognition for outstanding musical talent, including the beautiful tone and artistic interpretation of her playing. After studying at the Conservatory of Reykjavík for 6 years, Eva left Iceland to study with some of Europe's finest violin pedagogues. Her playing has been greatly influenced by the spirit of the Russian and East-European violin schools. At the Royal Conservatory of Brussels, she was a student of Prof. Leon-Ara, followed by studies with Prof. Corrado Romano at the Conservatory of Geneva and Prof. Istvan Parkanyi at the Sweelink Conservatory in Amsterdam During these years she won many awards, as well as scholarships to study with world renowned pedagogues such as Stephan Gheorghiu, Victor Pikaizen, Zachar Bron and Tibor Varga. Throughout her career, Eva has given numerous solo recitals in well-known concert halls in Iceland, Japan, United States, Russia and Europe, including regularly at the Hall at Carnegie Hall, the Trinity Church in New York City and the Corcoran Gallery of Art in Washington D.C., receiving high acclaim from music critics as well as the general public. She has released two highly-regarded CDs on the Japis label. Eva has also recorded for the Icelandic State Radio. In 1995-1996, she undertook studies in composition, conducting and orchestration at Harvard University.
Alice Jones
Alice Jones is a flutist known for giving performances that are "lively" (New York Times), "delicate and passionate with beautiful articulation and dynamics" (Eleanor Cory, composer). An avid symphonic, chamber, theater, and contemporary musician, with performances ranging from the Brandenburg Concerti to New York City's Look and Listen Festival, Alice was praised by Mario Davidovsky as "the flute player who could really play." She was also featured at the Composers Now! Festival at Symphony Space (2010 and 2011) and the Norfolk Chamber Music Festival (2010), and has received commissions from the Long Island Composers Alliance. She toured China and Hong Kong (2007 and 2008) as a performer and director of chamber music and outreach programs for the Yale-China Music Exchange. Equally passionate about performing, research, and teaching, she has won awards in both baroque performance and musicology, has taught music history courses at SUNY Purchase, and maintains a private studio in New York. She graduated from Yale University and SUNY Purchase and is currently a doctoral student at the CUNY Graduate Center. Alice joined the faculty at the Aaron Copland School of Music at Queens College in 2010.
Skip La Plante
Skip La Plante invents, builds, composes for, performs on and teaches with musical instruments built from trash. He co-founded MUSIC FOR HOMEMADE INSTRUMENTS in 1975, which has as recorded two albums, performed as far abroad as the Yogyakarta Gamelan Festival in Indonesia, and premiered about 100 compositions. He has built over 200 instruments, including two zithers for the Blue Man Group's production TUBES. Skip has composed music for over 100 modern dance and off-off Broadway theater presentations, played his homemade instruments in Mr Roger's Neighborhood, and was featured vocalist with Kirk Nurock's Natural Sound Ensemble from 1975 until the ensemble disbanded in 1982. When he's not making music, he spends as much of his time on long distance backpacking treks as he can, walking the entire Appalachian Trail and 2/3 of the Pacific Crest Trail. Skip once received a summons for taking trash out of a garbage can. His favorite food is wild raspberries.
Melanie Mitrano
Melanie Mitrano is an ASCAP composer, singer, teacher, lecturer and writer who specializes in new music and crossover repertoire. Her vocal and compositional styles span the realms of classical, Broadway, jazz, Brazilian music and Portuguese Fado. Melanie's compositions have been performed in a variety of venues from concert halls to jazz clubs. She was awarded a composer-performer grant from the New York Women's Composers in 2006. That same year, she released her debut CD, Songs in Transit, on Capstone Records. In 2008, she was a guest composer-performer with the NJ-based Diane Moser Composers Big Band. Her second disc, All Things Gold, featuring her original vocal jazz compositions, was released in 2010 by Ivy Cottage Press. Five of the songs on that disc have won compositional awards in the SAW Mid-Atlantic Song Contest and the Billboard World Song Contest. Melanie's jazz songs have been showcased at the Cape May Singer-Songwriter Festival, on SkyJazz Internet Radio, where she was a Favorite Artist Poll winner, and twice via podcast worldwide on Classical Music Discoveries. Her song cycle Phobias & Infatuations won the 2011 Summit City Art Song Festival Composition Award. Most recently, her work was featured on Arts Up Close Montclair TV 34. Melanie is a graduate of the Eastman School of Music and holds MM and DMA degrees from the New England Conservatory.
David Rimelis
David Rimelis' music has been performed by orchestras internationally, including the Boston Pops, National Symphony, Royal Liverpool Philharmonic, Saint Louis Symphony, Baltimore Symphony, Western Australia Symphony, Minnesota Symphony, Atlanta Symphony, New Jersey Symphony, and the Mel Lewis Jazz Orchestra. Rimelis is artist-in-residence for the New Jersey State Council on The Arts and teaching artist for the New Jersey Performing Arts Center He is also Director of Music Education for the AIDS Resource Foundation for Children in Newark New Jersey. He has served as composer-in-residence for the Concordia Orchestra in New York City from 1990 - 2002. His music is featured in the film about violinist Nadja Salerno-Sonnenberg "Speaking in Strings", PBS and New Jersey Network documentaries "Summer Camp", "It's Red It's Edible It Bounces", the Mo Willems cartoon "The Man Who Yelled," and the feature film "She Devil." National Television appearances as featured musician include "Emeril Live" (improvising original music as "Dr Strings), CBS's "The Guiding Light" (fiddler and country band leader), and NBC's "Four Stories" (volunteer music teacher to HIV affected children). As a guitarist and violinist, Rimelis has toured the United States, South America, Canada, Mexico, Europe, and the Middle East. His unique charanga violin style has been featured with many prominent Latin ensembles, including Jose Fajardo, Johnny Pacheco, Roberto Torres, Orchestra Broadway, and Africando. The son of country western singer "Idaho Ed," Rimelis was raised on American folk and popular music; he has won prizes in a number of regional fiddle contests.
Composers
David Morneau
David Morneau is a composer of an entirely undecided genre, a provider of exclusive unprecedented experiments. In his work he endeavors to explore ideas about our culture, issues concerning creativity, and even the very nature of music itself. His music can be found on Composers Concordance Records, Immigrant Breast Nest, Irritable Hedgehog, and elsewhere. This is the seventh concert David has curated for Composer's Voice. Learn more @ 5of4.com.
Eric Nathan
Eric Nathan's compositions have been performed internationally at the Aldeburgh Music Festival (UK), Tanglewood, Aspen Music Festival, Ravinia Festival Steans Institute, 2012 World Music Days (Belgium) and by ensembles including Nouvel Ensemble Moderne, American Composers Orchestra, Omaha Symphony Chamber Orchestra, Aspen Concert Orchestra, Daejeon Philharmonic Orchestra (South Korea), Collage New Music, Momenta Quartet, Spectra Ensemble and the Mirari Brass. Nathan served as Composer-in-Residence of the 2013 Chelsea Music Festival (New York) and 2013 Chamber Music Campania (Italy). His music has been featured on NPR's radio show "From the Top" and on WQXR's Q2 Radio. His music has been recognized with awards including the 2013 Rome Prize, ASCAP Rudolf Nissim Prize, BMI William Schuman Prize, four ASCAP Morton Gould Awards, and a Charles Ives Scholarship from the American Academy of Arts and Letters.
Recent commissions include those from the New York Philharmonic for CONTACT! at its 2014 Biennial, Tanglewood Music Center, Jerome Fund for New Music commission for the Momenta Quartet, New York Youth Symphony Chamber Music Program, ASCAP/Society of Composers Inc., Le Train Bleu, A Far Cry, Winsor Music, and Youth Orchestras of Prince William. Nathan received his doctorate from Cornell, and holds degrees from Yale (B.A.) and Indiana University (M.M.). His principal teachers include Steven Stucky, Roberto Sierra, Claude Baker, Sven-David Sandström, Kathryn Alexander and Kevin Ernste. Nathan currently resides in New York City.
Presenters:
Composers Now Festival
The Composers Now Festival celebrates living composers, the diversity of their voices and the significance of their musical contributions to our society. During the month of February, Composers Now presents dozens of concerts in venues throughout New York City. Experience the sounds and get to know the creators behind the music. From jazz to indie, from classical to electronic and beyond, join us on a sonic journey through the landscape of the arts of our time. Composers Now is a project partner of The Fund for the City of New York.
Remarkable Theater Brigade
Remarkable Theater Brigade founded by Christian McLeer, Dan Jeselsohn and Monica Harte, creates and produces new operas and musicals and takes children's versions out to special-needs and at-risk children free of charge.

Remarkable Theater Brigade creates and produces new works including operas, orchestral pieces, ballets, musicals, and electro-acoustic works and co-produces the Composer's Voice Concert Series concerts. Remarkable Theater Brigade was founded in 2002 by Christian McLeer, Monica Harte, and Dan Jeselsohn.
Jan Hus Church
This is the place you were welcome, long before you arrived!
www.janhus.org
Vox Novus
Vox Novus promotes contemporary music and its creators through concerts, recordings, publications, broadcasts, and online publicity. Vox Novus believes strongly in the intrinsic value of contemporary music, recognizing it as a force in the advancement of culture and art. Our goal is to keep music alive by strengthening the connection between composer and audience, providing greater exposure to new music.